Introducing the Tour System and Ranking System Changes
May 17, 2017
With tomorrow's Aussie Update, we are making some fixes, changes, and additions to the Ranking system. There is also a new Tour system that allows players to reset their rank progression, while gaining stars with their rank badge that indicate which Tour they are now on. Since release, we have been collecting data on unlocks and rank progression while simultaneously listening to the community's feedback. Both have played a crucial role in creating and balancing our new systems.
It's important to note that the points you have earned playing since the game's launch will remain unchanged. You've earned those points. We're not resetting the ranks or your accumulated score. With these changes your rank may change – but if anything you will likely gain a promotion.
New Officer Ranks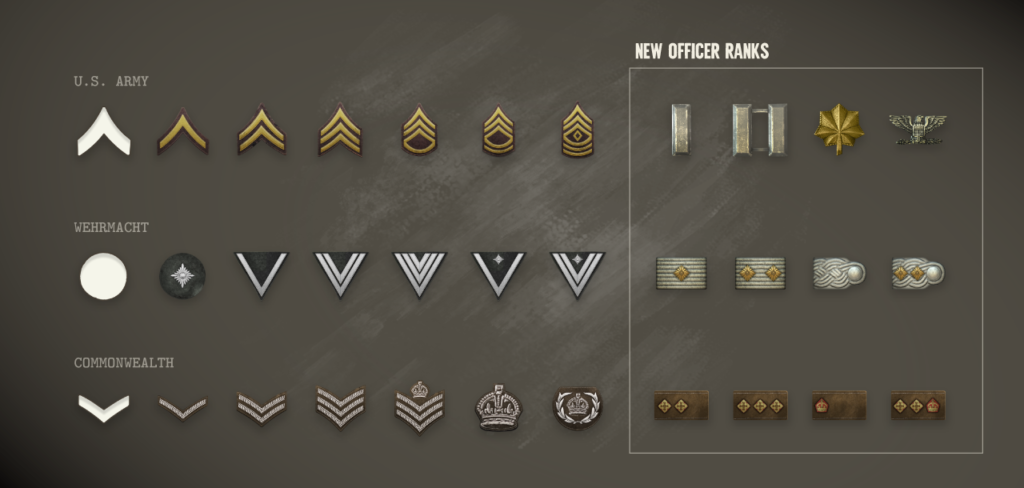 The game launched with six ranks, and we have now increased this number to ten. The four new Officer ranks are: Lieutenant, Captain, Major and Colonel. Characters will have these ranks displayed on their epaulets, and for the Americans on the front of their helmet as well.
Tours
Having a finite number of ranks and units to unlock ran into a design predicament. We intended for players to be able to unlock all units while ranking up, however the numbers just didn't add up when considering the addition of new units in future updates. To address the problem, we came up with the Tour system.
Once a player reaches the top rank, having earned a total of 1,000,000 experience points from in-game, they will be able to embark on the next Tour. Each tour is 1,000,000 points and when reset, you start at the bottom rank with 0 points once again. However, underneath your rank icon on the scoreboard and in your Profile, will be stars to indicate which Tour you are on. Players can easily see who the more experienced players are on the scoreboard. The character model rank badges will be unchanged, as we didn't want to disrupt that detail.
Unit Unlocks
We are also adjusting the thresholds of when units are unlocked. For the first five ranks, players will unlock a unit at the mid-way point to your next rank. For the remaining five ranks, players unlock two units in between ranks. This will provide a total of 15 units unlocked per Tour. We are limiting the total number of unlockable units to 30, so it will require two full Tours to unlock all the units.
There are also changes to how rarity works for units. Prior to this update, you could only unlock rare units at a higher rank. We've enabled units to be unlocked at any rank, with a rarity chance enabled. A player would be very lucky to unlock a rare unit on the first unlock!
In future updates, we will be retiring certain units and replacing them with new ones. Retired units will still be able to be played with in-game or traded for on the Steam Marketplace, however you won't be able to unlock them in-game and can't purchase on the Steam Inventory Store. If you have earned all 30 units in game, once we introduce new units you will be able to unlock them at any Tour or Rank level. We check for duplicates and won't be unlocking multiples of the same unit once you have unlocked it, regardless of whether you have traded it away after.
---
Tomorrow we will be releasing a blog post outlining details for new unlockable items including veteran weapon skins, cloth wraps, melee weapons, and trading cards.