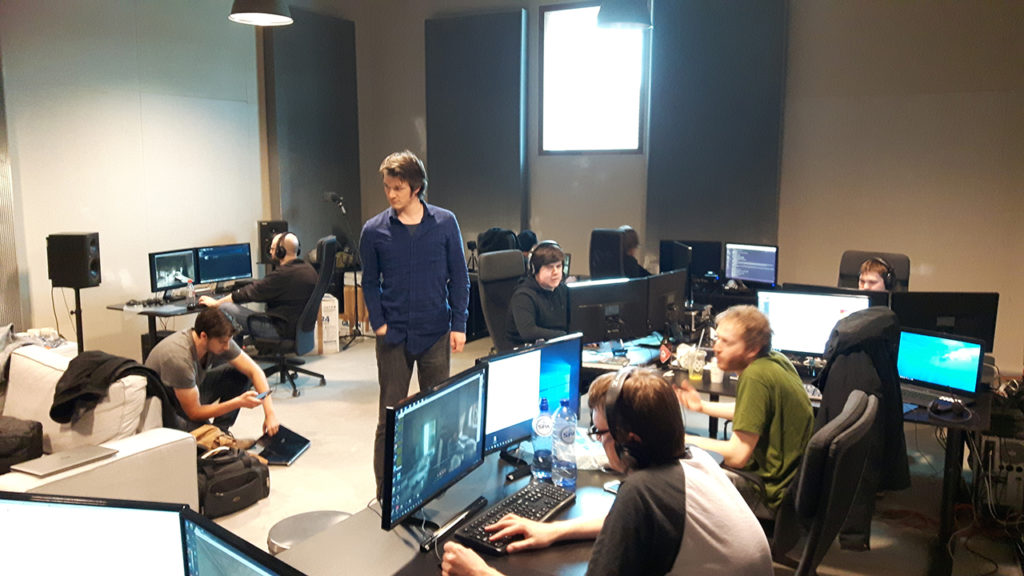 State of New World's Games
June 17, 2016
About four months back we announced the launch of our new Insurgency game, subtitled Sandstorm. A few days ago you heard about another game – Day of Infamy – which also happens to be very close to release. In this blog post I will talk about the state of each of our projects, and the very peculiar story behind Day of Infamy.
Insurgency: Sandstorm in State of Evolution
Since establishing our new onsite location in Amsterdam, Netherlands in November, our production has increased substantially. Sandstorm has come a long way very fast, and we quickly got the game on PS4 and re-created Insurgency's multiplayer gameplay. We are in the process now of fine-tuning the Sandstorm PC core mechanics to feel like a seamless transition from Insurgency.
Recently we finalized the story for the game and while in this creative process we discovered ways we would like to improve upon the scope of the game. We feel strongly that the game needs to be the proper successor to Insurgency, and some key changes to our development plan were required to accomplish this.
One of the areas we wish to grow as a company is in developing narrative-inspired experiences. We now have motion capture and voice talent at our studio so that we can have the production required to accomplish this. When it comes to Sandstorm, we plan to deliver some great multiplayer gameplay and expand upon it with ranking systems, matchmaking, aesthetic unlocks and more. We've also decided we would like to push the story side of the game to become fully playable in 4 player cooperative with friends, as well as split-screen on console.
Another thing we have recently decided to change is the level design direction for the game. Instead of simply recreating the existing Insurgency maps, we've decided to create all new environments and utilize the original Insurgency's level design as layout inspiration. Starting from scratch on the architecture side will allow us to make the game a much more substantial visual upgrade from the Source game, utilizing modular design techniques and pushing the level of realism and detail to the max.
We would also like to have larger levels in the game (imagine Contact and District in a single map *hint* *hint*). The current game modes found now in Insurgency will still be playable on the same scale, but we will also expand the playable area to allow for some new larger-scale game modes and support for drivable infantry transport vehicles.
These changes make Sandstorm a more ambitious project when it comes to production, however they also make the game a more appealing content-rich experience for our players. And with the release of Day of Infamy, we can reinvest into enhancing and expediting the release of Sandstorm, to make it the truly incredible game it needs to be and to get it in your hands as soon as possible.
Day of Infamy
The reveal of Day of Infamy took everyone by surprise, and this did not surprise us. When we co-developed the Day of Infamy mod for Insurgency with our community and released it back in January, we noticed a bunch of WWII games surface shortly thereafter. It became clear that we may be onto something, and there may be a WWII resurgence in shooters coming our way.
We at New World see Insurgency's core mechanics as the perfect platform for a WWII shooter. This is one of the reasons we were inspired to mod our own game back in December, about six weeks before the mod's debut. While these new UE4-based WWII shooters look very high quality, neither of them aim to deliver something similar to the core mechanics of Day of Infamy. Plus, neither of these games seem to be developing robust cooperative/singleplayer support, which Day of Infamy already has a strong foundation for.
As a mod, Day of Infamy started out relatively small. It was a small side-project for a few New World developers, who worked with some of the best talent in the Insurgency modding community. The initial goal of the project was to become a "continuation" of the Day of Defeat experience established by the Half-Life mod team in 2001. Applying Insurgency's popular infantry mechanics and building in this inspiration made up the initial release of what would become a popular total conversion mod for Insurgency.
We always said from the very beginning there's a chance Day of Infamy would become commercialized, however we were not sure whether we actually had permission to make the game as an openly spiritual successor to Day of Defeat. We were concerned that Valve would not be fond of us commercializing a game inspired on their IP.
After the mod version of Day of Infamy launched, we reached out to Valve to get their thoughts on the project. The original DoD creators checked it out and gave us their thumbs up. Valve offered to license Source Engine again to us so we could make the DoD-inspired game. They also encouraged us to make maps inspired by the classic DoD maps and provided permission to use art from their games. Although we had considered commercializing the game from the beginning, Valve's positive response and licensing offer made the project a no-brainer to us. We had the opportunity to create an openly spiritual successor to the de facto WWII game many of us grew up on.
After GDC in March, New World began full production on Day of Infamy as a commercial game. Having a strong base and working with older Source Engine technology meant it made sense for us to get the project out there on early access as soon as possible. While most of the team remained working on Sandstorm, a group of developers at New World dove into this standalone expansion. We also recruited some of the most talented modders from Day of Infamy's modding community to work with us on standalone Day of Infamy's level design, art, and voice over.
We were able to come a very long way in three months. Not only is the game very distinct from the mod and from Insurgency, but it contains all new multiplayer, coop, and singleplayer modes, an artillery feature which requires team coordination, weapons including flamethrowers, and all new AI. In the near future, the game will also have all new character art and menu/HUD – powered by the middleware Coherent GT. Day of Infamy's platform on Source Engine is a much improved version of the platform established with Insurgency, and we believe that the quality of the initial experience players will get with Day of Infamy is much superior to that of the experience we delivered with Insurgency in 2014.
The PC Gamer reveal at E3 was a big test for us, because it challenged us to demonstrate our narrative-driven ambitions. When put side-by-side with AAA development studios with massive art teams, I am very proud of what our team was able to put together for the trailer with a small group of people and a very short deadline. In a matter of a few weeks we had to get the scenes for the trailer ready for recording, and the environments looking much higher quality. Although the trailer may not demonstrate the gameplay which we believe is ultimately what will sell this game, it forced us to come a long way very fast. People are also very much aware now of our near-term early access release.
Initially when we were offered the PC Gamer slot, I was a bit concerned because I knew we still had a lot of placeholder art in the game. We ended up doing it anyway because it was really a rare opportunity to be in the spotlight. While we don't intend to ship the full release of the game with DoD: Source art, it is something that is in the game now so we can quickly create a content-rich experience and allow us to test and improve upon gameplay without any distractions. All new high quality character art will be in soon – below you can see progress on a Commonwealth character that's ingame as well as a U.S. Army character in the process of being finalized.
We are very proud of the level design we've produced with Day of Infamy. Each level has a very unique atmosphere and style of play, and the designs are both original and DoD inspired. The maps Sicily, Reichswald, Dog Red and Bastogne are completely original. The map Comacchio is inspired by the DoD map Ramelle. The map Catania is inspired by the DoD map Caen. We also have plans to develop maps inspired by the DoD maps Avalanche and Thunder. We are primarily interested in the older more classic maps from the mod, and in incorporating DoD's "adventurous" level design throughout the game.
Although Day of Infamy is not yet what we would consider to be a 'complete' experience, it is largely different than the free Insurgency mod, and also very distinct from Insurgency itself. The gameplay is strong, and refreshing. It's time to get people playing it and letting us know what they think so that we can craft together a strong early access launch in July.
Some people are wondering what will happen to the Day of Infamy mod as a result of commercialization. We will leave the mod up and free for players to try if they own Insurgency. However, we caution players not to see it as a "demo," since the standalone game contains a lot of content, features, game modes and mechanics which are not present in the mod.
Slow Insurgency Competitive Progress
The competitive systems we told the Insurgency community would be coming have taken us longer to develop than we would have hoped. There are a couple of reasons for this I will touch upon.
The first has to do with the technical side. Insurgency was not built with competitive matchmaking in mind. Establishing these features and hacking in a competitive mode so late in the game's development turned out to be quite the headache. Many aspects of our core game rules were not built with competitive in mind, and VGUI menu design is really quite backwards to work with on menus which require iteration. The result of these technical aspects is that the initial dive into competitive support dragged on longer than expected, and to this day presents some serious roadblocks.
The second has to do with money. We underestimated how much of an investment it would be to fulfill the community's expectations. The new UI framework, expanding server infrastructure, anticheat, marketing costs, prize money, etc., make for an expensive endeavor.
The last reason has to do with Day of Infamy, which our company truly sees as a great opportunity. It forced us to shift focus a bit. We wanted to be transparent about this with our community, but could not because Day of Infamy's development has been a secret.
Looking back, one of the mistakes we made as a company is in giving our community some sort of expectation for when they would get their hands on competitive matchmaking. We should have had better foresight that this was no small task, and the work involved might be better spent on the game's next-gen successor which is being built from the ground up with competitive in mind.
We are still working on these systems for Insurgency, but we are a bit limited in what we can do compared to Sandstorm and Day of Infamy. For these projects we have licensed Coherent GT to produce and iterate on better menus. The problem with Coherent for Insurgency is that it does not support Linux 32 bit yet, so technically if we did the matchmaking menus with it we would not be able to include them in Insurgency without removing Linux support. The folks at Coherent are working on Linux 32 bit support, so perhaps eventually it will be possible to back-port Day of Infamy's snazzy new menus into Insurgency.
In the meantime, we will implement matchmaking into Insurgency using a simple ingame and out of game web browser instead of VGUI. This will be a decent temporary solution, until Sandstorm comes out or we manage to back-port the Day of Infamy competitive systems to Insurgency. Nick Gaulin, the New World engineer working on competitive support, will be publishing a blog post soon to share with you all some details of his progress.
For those who are interested, Day of Infamy will support competitive matchmaking before its full release. It will feature the "Liberation" game mode which is a territorial control mode where objectives are tied to reinforcements. It feels like a mix between Insurgency's Firefight game mode and Day of Defeat's classic flag capture game mode. It requires a lot of strategy and communication, plays well on servers with small player counts, and has compelling action for spectating.
Some Recent Company History
Our company has advanced to a new level with the opening of our studio location, where we have brought together a bunch of our team into a single location. We are in a very unique office building in Amsterdam which contains an auditorium and some well-known music recording studios. It's been enjoyable being surrounded by musicians and other creative talent. The building also has a great cafe in the lobby, where we can get breakfast, lunch, dinner – or after work beers. The cafe has a fireplace, where we occasionally have team meetings.

Near to far:
Jeremy Faucomprez, Production Director
Jeremy Blum, Game Director
Michael Tsarouhas, Community Manager and Voice Over Director
Situating ourselves here has unleashed our creative capacity and productivity. We are very excited about the work that will be produced here.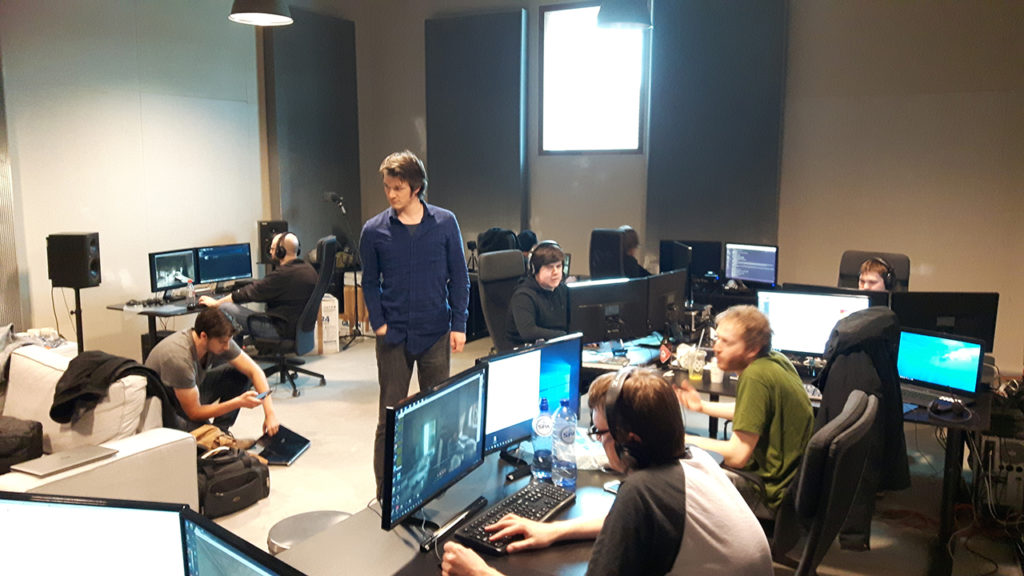 Left to right:
James-Lea Baran, Programmer
Mark Winter, Audio Producer & Studio Manager
Andrew Spearin, Creative Director
John McBroom, Programmer
Jeroen van Werkhoven, Lead Level Designer
Jeremy Blum, CEO & Game Director
Stephen Swires, Lead Programmer
We've also recently upgraded to a larger office upstairs in the same building, because the studio space was getting too crowded. The new office upstairs is spacious, has nice air flow, and gives us room to grow a bit.

Right to left:
Jeroen van Werkhoven, Lead Level Designer
Adam Sikora, Programmer & Web Admin
Andrew Spearin, Creative Director
Stephen Swires, Lead Programmer
Christiaan Bakker, Programmer
John McBroom, Programmer
We've kept the fully sound-proof recording studio downstairs for audio recording, motion capture, and simulating the "living room experience" for our console projects.

Michael Tsarouhas, Community Manager & Voice Over Director
We're very excited to have members of the team on site in a physical location. It's already making a big difference in productivity.
There have been a lot of changes here, but now that Day of Infamy has been announced we can be a lot more open with what's going on behind the scenes with all of our projects, and resume our weekly livestreams. We also have plans to release a series of blog posts over the next few months.
Upcoming Q&A and Livestream Session
I will be joining our community manager Michael Tsarouhas for a livestream this Sunday at 2pm Eastern U.S. time. We will be using the Insurgency Twitch channel for the time being (http://www.twitch.tv/newworld). We are happy to answer any of your questions you have about the future of New World's games.
Blog Posts Being Worked On
In the spirit of openness and sharing our excitement, we will begin distributing more frequent blog posts written by individual members of our development team. Below is a list of topics we plan on writing blog posts about in the near future.
– "Competitive Rankings and Matchmaking for Our Games" by Nick Gaulin
– "Bringing Day of Infamy's Characters to Life" by Gabriel Fronza
– "Pushing Our Cinematic and Narrative Capabilities" by Andrew Spearin
– "Day of Infamy's Level Design and Multiplayer Game Modes" by Jeroen van Werkhoven
– "Day of Infamy's New AI and SP/Coop Modes" by James-Lea Baran
– "Improved Menu Design Workflow with Coherent GT" by Stephen Swires
– "Voice Over and Writing in Day of Infamy" by Michael Tsarouhas