November 8th Sandstorm Update Now Live!
November 8, 2018
Hi everyone my name is Jon Higgins, and I am the Marketing and Communications Director here at New World Interactive. Today we are rolling out a major update to the ongoing pre-order beta test for Insurgency: Sandstorm.
The core of this update is a codebase upgrade from Unreal Engine 4.19 to Unreal Engine 4.20. This was a very time-consuming process, but should yield significant benefits for both now and the future by allowing us to take advantage of new features in Unreal. During the upgrade, the rest our team has been hard at work adding new content and features such as the Alpha AK assault rifle, community server tools, a new map, tattoo cosmetics, and more. We've also been doing a lot of optimisation, and continuing to refine the core experience based on community feedback. The full change log runs at almost 18 pages long and can be found at the bottom of this post.
The new Alpha AK is available for the Insurgent Advisor class as well as the Security Advisor in Coop.
Gameplay Changes
This update features improvements to gameplay including adjustments to recoil, sway, focus, player movement, and more. We've made changes to the visual recoil to become more "punchy" and altered recoil values in general for many weapons; especially those with 7.62 caliber rounds. More weight will now mean the time to aim down sights will be slower. We've also added "tagging", which means a player's speed is reduced when they take damage.
Comparison of updated recoil, between Insurgency (Left) and Insurgency: Sandstorm (Right)
New Map
As some of you may know, we intended to release a new map called Precinct with this update. Unfortunately, during testing this week we noticed several issues that were causing the map to underperform. Because of this, and because of the fact that this map is considerably more complex than the others, we've decided to hold off releasing the map until we can optimise it further. However, we have noticed our fans' desire for more map variety in the beta, and in particular have received a lot of community requests to re-introduce Refinery (known as Oilfield during our Closed Alpha). So we have decided to add it back into the map pool as requested, to give everyone something new to enjoy.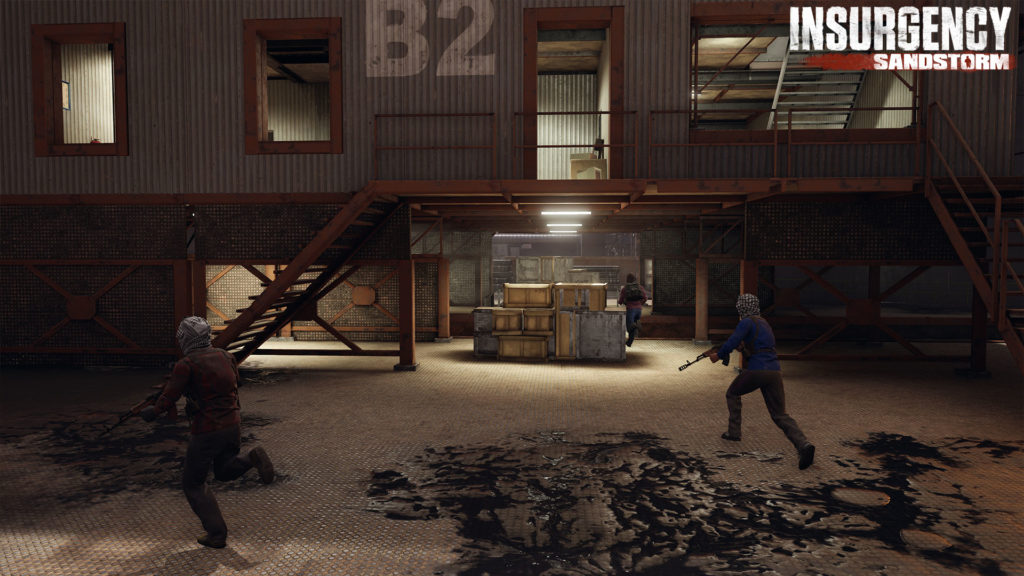 Refinery features intense close quarters firefights in an industrial setting with a unique vertical gameplay style. Both teams must navigate a dense system of pipes, warehouses, and catwalks as they vie for control of the facility. We have done several iterations on Refinery since it was last shown to testers, and are keen to hear more player feedback.
Performance and Optimisation
Today's update features many changes aimed at optimising the game and improving the overall performance as we get closer to launch. The exact performance change will be unique to each player and dependant on numerous factors including the details of the person's system and any other programs being run. However, we have made significant steps towards reducing CPU and memory requirements, and hope to announce our official minimum system requirements shortly. Performance improvements are by no means done, however this update should reduce microstutter and hitches experienced by players in previous versions of the Beta. We ask that any players who still encounter performance issues after this patch to read the following thread and post their game settings along with their DxDiag file to help our team better identify issues.
Easier Cosmetic Unlocks
We received a lot of feedback regarding the rate at which players are able to unlock cosmetic items as they progress. In addition to the news that pre-order beta players will be able to carry over 50% of their earned Appearance Credits into the full release, we have also made changes to the overall time it takes to unlock cosmetics. Most item tiers have seen a 33% reduction in cost, and we have also made the decision that upon launch players will start the game with 1000 Appearance Credits. The combined effect of this will enable players to purchase a few base cosmetic items for each team right at the start..
AI Improvements
For fans of our Coop game mode Checkpoint, the enemy AI has seen a number of improvements. Bots should now reach objectives faster, have better accuracy at close range, and will throw grenades into windows when they try to retake objectives during counter-attacks. The Explosive Drone fire support AI has also been improved, allowing it to enter through windows and detonate inside buildings.
Community Servers
Along with this update we have also released our dedicated server application so that fans can host community servers. We are in discussions with various server providers to allow players to host their own custom servers more easily. If you are interested in hosting a dedicated server, you can find a setup guide here.
Summary
The full change log featuring hundreds of changes included in this update can be viewed here. As always, player feedback during this beta test is vital to our iterative development process and enables us to continue making these changes based on your suggestions. So we encourage all players to join in discussion on our forums with constructive feedback, as we start to finalise our experience leading up to launch.
Known Issues
There are a few known issues with the build that we'd like to communicate to players. We are actively in the process of fixing these and hope to release hotfixes for the game in the near term to address them accordingly. If you notice any other critical issues please report them on the Steam forums so we can have a strong hotfix effort in the aftermath of this major update.
VoIP is not working correctly on matchmaking servers despite working correctly on community dedicated servers.

The ready animation when spawning in doesn't fully play on weapons.

Security 3P arms are pitch black when shaded.

Magazine disappears on weapon when you switch to an under barrel grenade launcher in first person.

Gas Masks don't show on third person character models.

Insertion Truck characters are not showing online.

Woman hair preview is always a hijab whatever the selected haircut is.

When a player is ejected from a vehicle after being killed their ragdoll will disappear.
Insurgency: Sandstorm releases December 12th 2018 on PC and is aiming to release on PS4 and Xbox One 2019.
Pre-order now to get instant access to the pre-order exclusive PC Beta from now until launch.