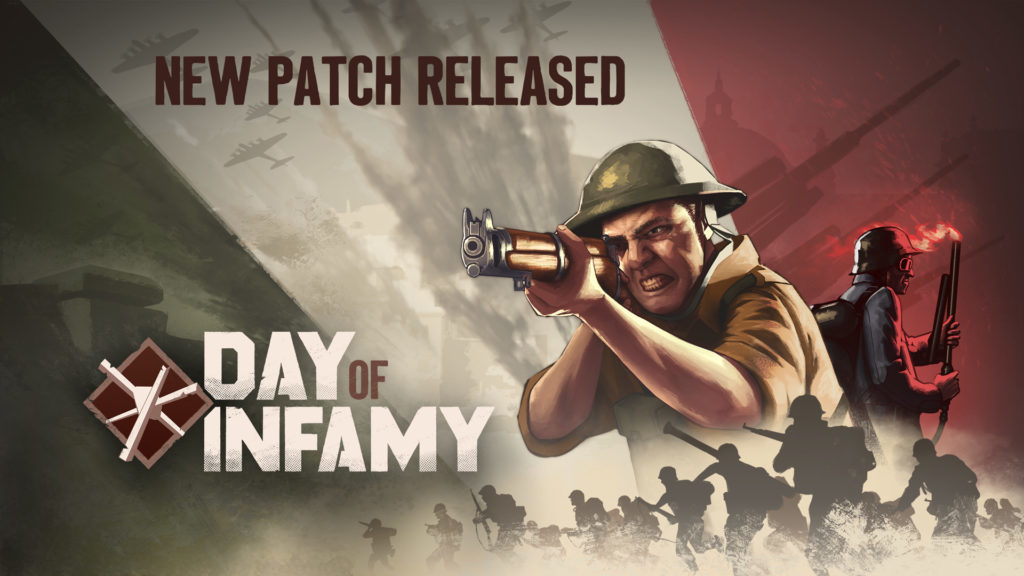 Day of Infamy Patch February 15th
February 15, 2017
We are releasing a patch today that balances maps, updates visual content, fixes jumping ragdolls, and more.
Full patch changelist below:
Map Balance & Fixes
Bastogne

Tweaked and added new cover throughout the map.
Changed Allied starting spawn in Frontline to address map imbalance.
Changed Axis spawn in Offensive when attacking B and C to address map imbalance.
Changed Axis spawn in Liberation to address map imbalance.
Stronghold balance adjustment.

Comacchio

Updated Firefight layout.
Entrenchment spawn time adjustment.
Navmesh updated.

Crete

Layout balance & additional art.
Spawn fixes.
Offensive regroup point changes.
Entrenchment adjust spawns.

Dog Red

Entrenchment fix.
Raid balance adjustment.
Increased size of 3d skybox.

Foy

Added Sabotage game mode.
Various level layout changes.
Navmesh updated.
Updated overview.

Ortona

Raid balance adjustment.
Updated cathedral materials.
Stronghold balance adjustment.
Navmesh updated.

Reichswald

Changes to Frontline, Offensive and Sabotage to address map imbalance.
Spawn fixes.

Saint Lo
Sicily

Updated Firefight layout.
Updated Content
Updated and improved character textures.
4x scope option available for Enfield.
New Flak-88 damaged model.
Updated particles for fuel depot burning and pillar smoke.
Enfield bayonet for Commonwealth melee weapon.
New additional patch for Gordon Highlanders.
New helmet decal for default US officer.
UI Improvements
Added some shadowing to the HUD chat messages, unit menu and map loading screen to assist viewing on light backgrounds.
Added new font to the loading screen text.
Gameplay Improvements
Bayonets can now be charged during sprint by holding the attack button.
Bipods will now auto deploy when going prone. If moving while prone, the bipod will auto redeploy when you stop.
Bug Fixes
Player and bot ragdolls will no longer jump up when killed.
Fix to prevent players being timed out by BattlEye while downloading custom content.
Class loadout preset saving will now properly save the secondary explosive slot.
Joining a team now properly selects the default unit to avoid selecting an invalid unit which led to missing helmets and hands.
Fixed collision mesh on Flak-88 base.
Renamed Commonwealth No 76 impact WP grenade to No 77.
Renamed Commonwealth No 77 impact smoke to No 79.
Fixed incorrect rank patches for Commonwealth units.
Coop Improvements
Tweaked the difficulties of scenarios that were too easy/hard.
Bots should no longer use LOS path skipping if the next segment is a doorway.
Reduced number of bots carrying rocket launchers in Entrenchment.
Added TNT to some enemies in Entrenchment.
Add nav avoidance flags to destroyable walls, which is removed once it's destroyed.
Bots will only flee from TNT if it has impacted the world at least once.
Thanks and enjoy!