Contest: Insurgency Clipstorm
April 8, 2020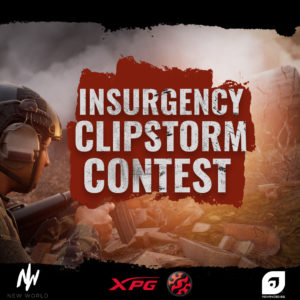 Insurgency: Clipstorm Video Contest
Time to show off your Sandstorm skills!
To enter, submit a two-minute video of funny gameplay moments, creative content, sick plays, or anything you find entertaining. We're looking for content that showcases Insurgency: Sandstorm's unique gameplay. When submitting your video, please ensure you follow our guidelines:
No copyright material (music, images, etc.)
No racism, homophobic or prejudice remarks, sexism, or excessive swearing
Majority of content needs to be recorded POST update 1.6
Video needs to be under two minutes
Video quality needs to be at least 720p
One entry per player
While clips don't have to be edited, bonus points will be given for editing, style, creativity, and the flow of your submission. Don't be afraid to get creative! Take advantage of our Replay System to get those extra awesome shots! Learn more about how to use the Replay System here.
Upload your video to YouTube with "Insurgency Clipstorm" somewhere in your title (remember, the majority of your video should be recorded on the latest 1.6 version of Insurgency: Sandstorm). Submit your YouTube video and information in the form below (you must have a Google email to upload to YouTube and to use the Form).
Promotional Period
Submission date: Submissions will be accepted between 3:00 PM MST on Wednesday April 08, 2020 and will conclude at 11:59 PM MST on Wednesday May 06, 2020
The Dev team will choose their favorite 10 video submissions, then turn to the community to pick the top 3 best submissions. Winners will be contacted on or before Wednesday May 13, 2020 and will have 48 hours to respond. Winners will be announced no later than Wednesday May 20, 2020.
Prizes
Big shout-out to XPG and Advanced.gg for sponsoring this contest!
Please thoroughly read the contest rules:
Unable to find display template for contest type: