Community Blog Post #2
May 5, 2020
Hello Gamers™
This is a surreal time for everyone worldwide and we hope you're all doing well considering the circumstances.
I am the new guy (not super new by now, I guess). My name is Aaron (usually fatherHank online – it's a really dumb story) and I have been hired as a Community Associate to work with our Community Manager DaraDef. I aim to help improve our team's transparency and communication, ensuring that valid feedback is heard by our dev team, and also to communicate back to all of you about our team's plans and vision for the game. That's a whole lot of words to say I am here to help.
A little about me; my go-to-game is usually Destiny 2, but as of late Valorant is taking up most of my game time (with a little bit of time used to pay back Tom Nook). I'm learning the ins-and-outs of Sandstorm, but as you all know it is a very deep game. I was born and raised here in Calgary, AB, and instead of post-secondary I took a decade long gap-year. During that time I worked as a chef in Canada and Australia, and did some traveling here, there, and in between. The thing I collect is sneakers. I think I'm well over 50 pairs by now and I convince myself that it's ok because it's healthier than some vices. Like heroin. Somehow I ended up working with computers, and that led me to this job! That's more than enough about me though, let's dig in (if you have more questions hit me up on Twitter @fatherHank).
At NWI, we are all blessed to be able to work remotely during this time, and we aren't taking that for granted. One thing we are excited to be able to do is to engage our community and try to bring a source of entertainment and happiness to this otherwise difficult time.
---
Reminder!
To start off we wanted to remind you about our Insurgency: ClipStorm contest that is going on right now! The details can be found here, and we have some pretty amazing prizes from our sponsors: XPG, and Advanced.GG. We've received loads of great entries so far and there are still a couple of days left. Below is one of my favorite videos so far:
---
The Feedback Process:
We have seen a bit of frustration on the forums and across social media these past couple of weeks, so we wanted to explain a bit about how we gather feedback and how choices are made on what we can work on.
We are always looking at comments and sentiment across all platforms; Steam & Focus forums are our main platforms. However, we also monitor Facebook, Instagram, Twitter, our support site, and more. When we start to see something is being mentioned multiple times I add it to a weekly report (The Community Sentiment Report). I record details like the number of posts, the number of replies, the number of unique commenters, and even a ratio of positive comments to negative comments.
After this is finished the Head of Marketing and Communications meets with us and we prioritize these items. If something is game-breaking we send it to production and QA right away, but if not, we order the items on a list. Our team then speaks with the Production Team and a timeline for a fix is discussed based on our teams workload.
We are still a small team of 40-45 people. This means we are often trying to punch above our weight as far as updates and new content is concerned. It also means that sometimes fixes can take longer than we want. It's a balancing act and we're doing the best we can for all of you.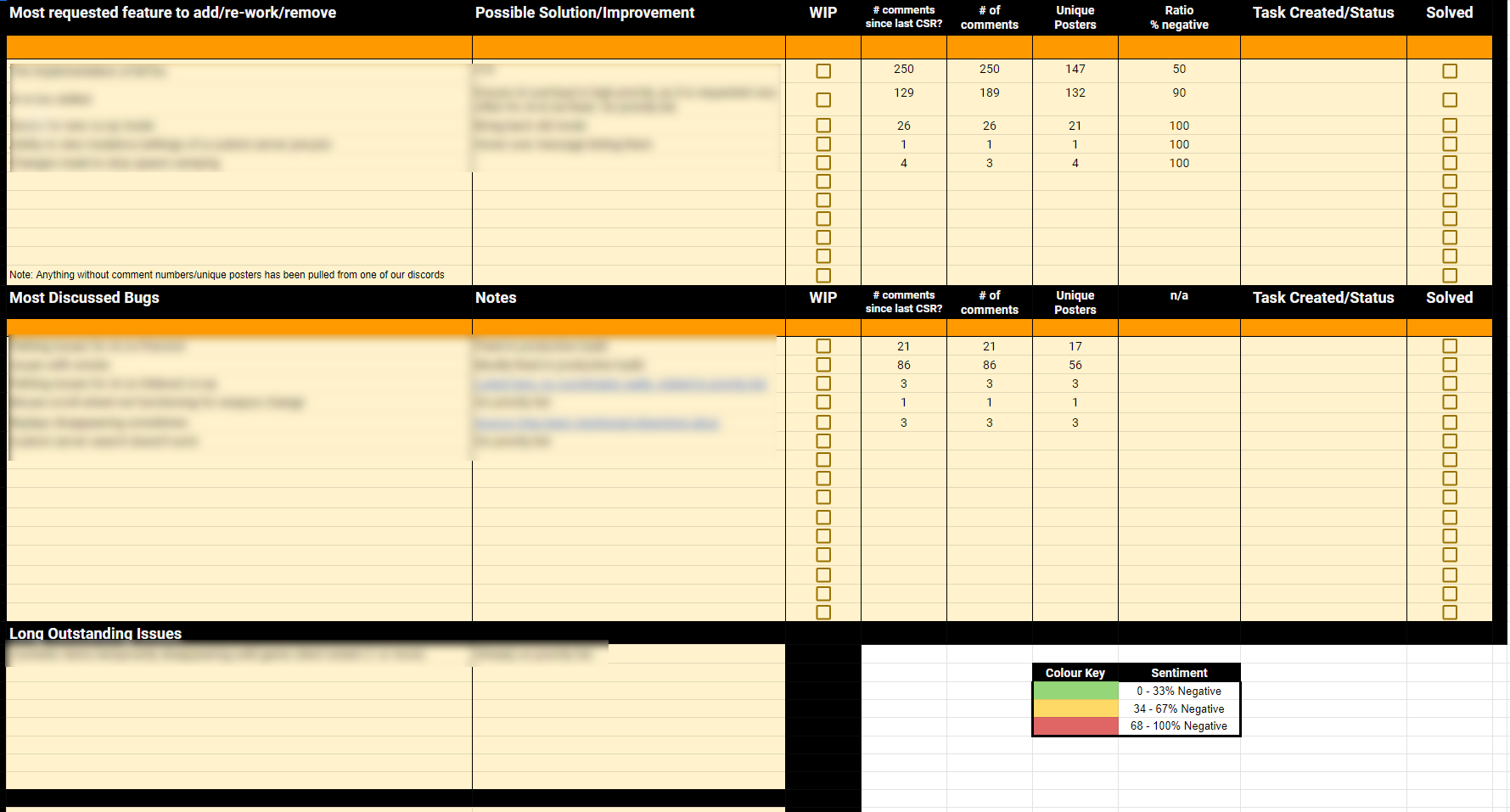 (This screenshot above shows the feedback I recorded after one weekend)
If you have feedback or are running into a bug, please feel free to leave it on one of these two Steam forum threads- General Feedback or Current Bugs.
---
Meet the Team
Starting with this post we would love to start sharing some more information on our team members. This week we are interviewing Christiaan Bakker, our Graphics & Gameplay Programmer (you may have heard him on one of our dev-streams recently, or if you've been around a long time he was on a Q&A ages ago).
What is your NW story?
I've been a part of New World for roughly six years now. I originally started out programming achievements for Insurgency (2014) and over time eased into a gameplay and graphics programming role. I additionally work as a technical artist and have acted as the post release content project lead for Day of Infamy (2017).
What games got you thinking about a career in video games?
I don't think any games really got me into thinking of making a career in video games. I just kind of slowly grew into it over time. When it comes to playing games, I enjoy those with tangible fictional worlds where I feel like I could live in that space.
I'm a fan of the old Myst series, Rayman 2, Dreamfall Chapters, and Prince of Persia 3D. Not so much for the gameplay itself but for the most part just the worlds and soundscapes.
I used to dream about those places at night and then wonder what kind of worlds I would create.

What are you playing right now?
I'm currently playing through The Norwood Suite. I have also been playing Left 4 Dead 2 and Minecraft with friends.
What does Gameplay Programmer Really mean?
Pretty much every mechanical or logical thing in a video game has been written by a gameplay programmer. Almost every feature has to be written or integrated by one of them at some point. This can involve activities such as triggering events at the correct time or building an entire system to handle the dismemberment of the in-game characters.
What is your favourite gun or loadout to use in Sandstorm?
I like to sneak around so I plan on using [REDACTED] a lot more. I like to use pretty light loadouts to see how nimble and chaotic things can get.

Is there anything else you'd like to add?
I've made music for a few video games in the past such as Estranged: Act I, From Earth, and The Stanley Parable.
---
The Elephant in the Room
The final item we would like to speak about is the upcoming optional paid cosmetic DLC packs. We wrote a lengthy post about it on steam that should cover all your questions but here is the tl;dr:
• Purely cosmetic, nothing that affects gameplay
• Nothing RNG or luck related, such as loot boxes. You will always know what you are purchasing
• The items will stick to our aesthetic (no unicorn horns, no pink camo)
• We are doing this to ensure continued support for Sandstorm
We understand that some people still aren't happy about this addition- we just ask that you try and reserve judgment until the DLC is added in our summer update.
There are a lot of exciting things coming in the 1.7 update: "NIGHTFALL", and we can't wait to share more with you. For now though, I'm sure one tease wouldn't hurt…
Look familiar?
Thanks for stopping by, see you all on Wednesday for the stream,
fatherHank