Day of Infamy Mod Picks!
March 22, 2017
Here at New World, modding is very important to us. Our company was originally formed as a modding team, so we have a lot of respect for our modding community. With that in mind, for the free weekend we decided to honor some of our favorite mods!
Here's the list in Video form, if you prefer:
UI Changes
Kagami's Animated Menu and Loading Screens
A series of 3 animated background replacements for the home screen background. Choose from Commonwealth, Wehrmacht and US Forces themed backgrounds.
Sicily Bunker – Inventory Screen 
Changes the background of the inventory select menu to an animated version of one of our more popular maps Sicily.
"Free Weekend" Artwork for Main Menu
In honor of the free weekend, community member eric1894 made a home screen replacement that uses our new Free Weekend face-off imagery!
Have you ever blown yourself up throwing an explosive grenade instead of a smoke? This mod replaces the in-game grenade icons with icons that better describe the type of grendae you're about to throw!
Patches' UI Edits for Huge Nerds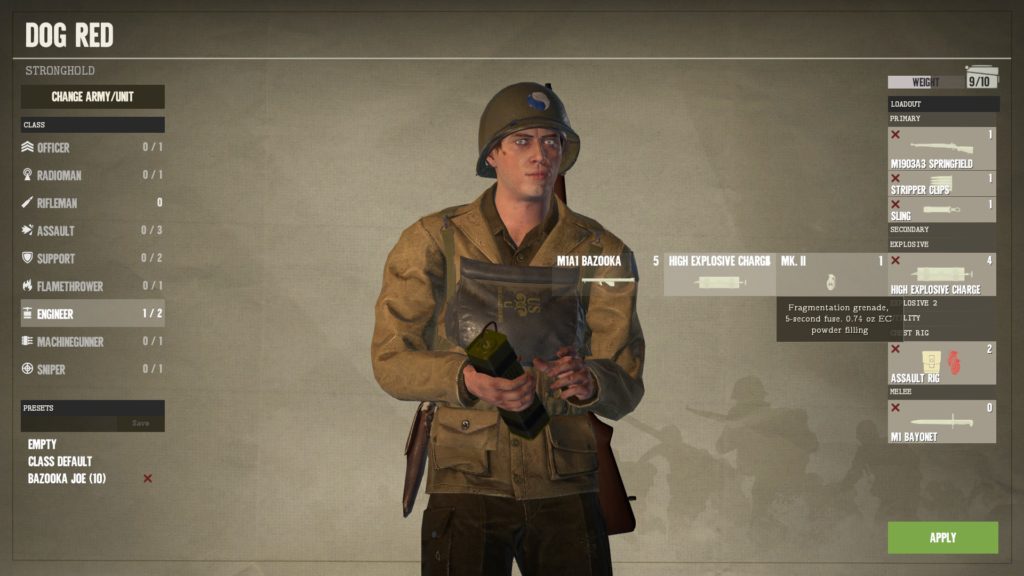 Are you a huge WWII nerd? Well Patches' mod changes names for all of our weapons and equipment to an absurd level of historical accuracy!
Total Conversions
Hilarious YouTuber BedBanana solicited the community to create an anime themed conversion that replaces skins and sounds with something a little more…exotic. The YouTube video alone is worth the watch!
Definately the biggest overhaul of any of the mods listed. Born to Kill: Vietnam uses traditional Day of Infamy gameplay and sets it in the intense skirmishes of the Vietnam war. Lots of new maps, guns and models! Definitely a must-try! The listing page says it's not working and there are some bugs, but the mod is definitely worth a try.
Models and Sounds
Definitely a player in WWII, Poland get its own model courtesy of community member Benzibuk.
We can't decided whether these replacement death sounds are horrific or hilarious. Either way this mod is sure to spice up your next round!
The 442nd Sound Mod (Open Beta)
Created by community member and frequent Day of Infamy Discord members Noji and Ribs, this voice replacement mod honors the 442nd division group of Japanese-American soldiers.
These gloves won't just make you look cool on the battlefield…they'll make you look Tacticool!
A cool model replacement that includes a death count added to the classic Lewis Gun.
A gun sound replacement mod that uses sounds from a certain famous WWII movie. Wouldn't feel out of place on Dog Red!
Adds a jungle-themed paintjob to the classic Owen Gun!
Maple Leaf Forever Commonwealth Victory Music
Celebrate your Canadian pride with a mod that replaces the commonwealth victory sound with "Maple Leaf Forever"!
Maps
A close-quarter map set in France; this map is an optimized version of the famous Donner map from Day of Defeat. If you're looking for some DoD nostalgia, this is your ticket!